How Does An Elevated Highway in New York City Even Flood?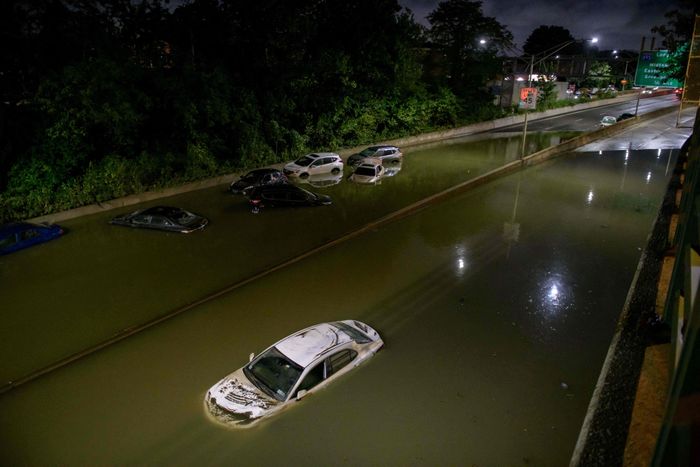 Highways throughout New York City flooded as the remnants of Hurricane Ida swept through.
Photo: AFP via Getty Images
The FDR Drive was swamped, the Long Island Expressway was inundated, and the Brooklyn–Queens Expressway was submerged, as flash floods turned New York City's roadways into deadly rivers, killing at least one person trapped in a vehicle in Queens and eight people trapped in vehicles in New Jersey. Last night's deluge also somehow flooded the approach to the Brooklyn Bridge, where the city's likely next mayor was helping drivers move slowly through what looked like a leaky canal. Like much of the city's old transportation infrastructure, our roads were not designed to take on this much water. But in our permanent climate emergency — the New York region is now a humid subtropical zone where flash-flooding will be more frequent — the city's highways in particular face a problem twice over, as they were deliberately run through communities with weak infrastructure, and many of those were low-lying areas already prone to flooding. "The design of infrastructural highways, often at the water's edge or in trenches that divided poor Black and brown communities," says Catherine Seavitt Nordenson, director of the graduate landscape-architecture program at the City College of New York, "were not considered in light of sea-level rise or the increased rainfall that accompanies our hotter, wetter climate."
Below-grade highways (like this portion of the BQE) are, obviously, uniquely vulnerable when it comes to flooding. But as slow-moving, moisture-saturated storms occur more often than ever before, even the elevated ones face challenges. "Highways are impervious surfaces, and when the water falls on them, it runs into drains that were never built to accommodate these types of floodwaters," says Sam Brody, executive director for the Institute for a Disaster Resilient Texas at Texas A&M University. He explains that a rainfall rate of three inches per hour — which New York experienced for part of last night — is far beyond what any of the city's infrastructure was designed to handle. It's a problem he sees a lot as engineers try to cram larger roadways into cities. "The roads keep getting wider, and the drains aren't getting any bigger, so you have more pavement and the same drainage, and that creates catastrophe."
Some cities are taking steps towards integrating transportation infrastructure into corridors that more closely resemble the original floodplain environments. In Houston — which experienced the most extreme rain event in U.S. recorded history during Hurricane Harvey — heavy rainfall led the city to transform the land around its elevated highways into parklands that are designed to drain. The I-45 has big ducts down its edges — larger and more numerous than drainpipes — to sluice water off its roadway as it weaves through Buffalo Bayou Park. The drainage falls on lightly landscaped hillsides below — which also have walking paths and bike trails to be used in calmer weather — that can safely fill up during storms. That's no more than a theoretical solution for densely populated New York neighborhoods, says Nordenson: "Yes, bayou-like green infrastructural strategies that are so capable of managing excess stormwater are a great idea, but these require space." Given the constraints we live under, Brody suggests that the biggest plausible improvement would be made by eliminating some of those highway lanes entirely. That would greatly decrease the amount of impervious surface and reduce the number of drivers being placed in harm's way. Not to mention eliminating some of the emissions that are at the root of the whole problem.
#thevillagesmortgage #thevillagesfl #thevillagesflorida
#thevillagesflmortgage #thevillagesmortgage #thevillagesrealestate, bqe, climate change, flooding, getting around, Transportation